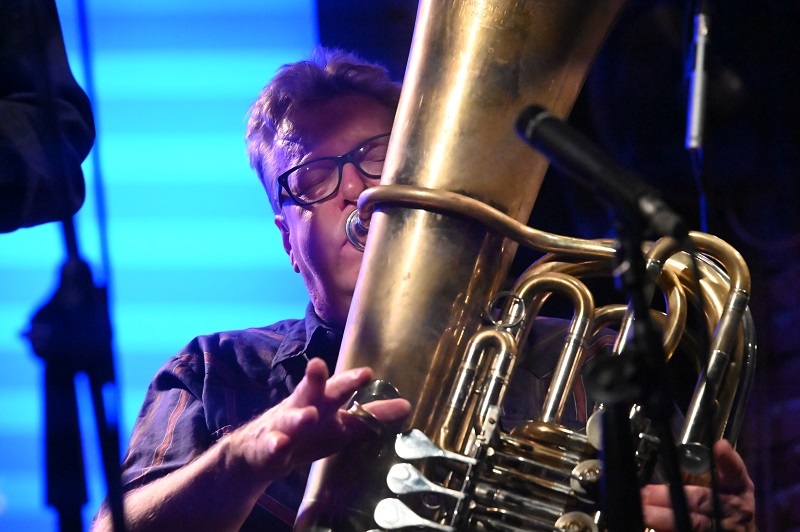 Born in 1957 in Skellefteå in the very north of Sweden. Holmlander received his diploma in classical tuba in 1983 at the Royal Academy of Music in Stockholm with Michael Lind as a teacher. Holmlander has always worked simultaneously with improvisation, jazz and rock music as well as classical and contemporary music.
As an improviser Holmlander has worked with – Eje Thelin, Marilyn Crispell, Paul Lovens, Folke Rabe, Phil Minton, Sten Sandell, Sven-Åke Johansson, Gunter Christmann, Kjell Westling, Keith Rowe, Georg Riedel, Position Alpha, The Swedish Radio Jazz Group, Barry Guy New Orchestra, Ken Vandermark – Territory Band & Resonance Ensemble, London Jazz Composers Orchestra, Peter Brötzmann Chicago Tentet, Swedish azz, Fredrik Ljungkvist and his Yun Kan 5 & 10, Fire! Orchestra…..among many many others.
Holmlander works a lot with theatre music, sometimes he plays solo and he regularly works with his own Carliot – It´s never too late Orchestra, Paal Nilssen-Love Large Unit, Fish & Steel, and recently with Gabrielle Mitelli – E.G.O. – EuropeanGalacticOrchestra, Parti & Minut, Inner Ear, Torden Kvartetten & Mats Gustafsson NU-Ensemble.
Per-Åke has participated in more than 100 records and 1800 theatrical performances. He has given concerts in 39 countries and he is since December 2008 a member of the government run – Musikalliansen.