An interaction between graphic works, 2 chamber groups, 4 soloists, processing electronics and conductor.
Commissioned by Avant Art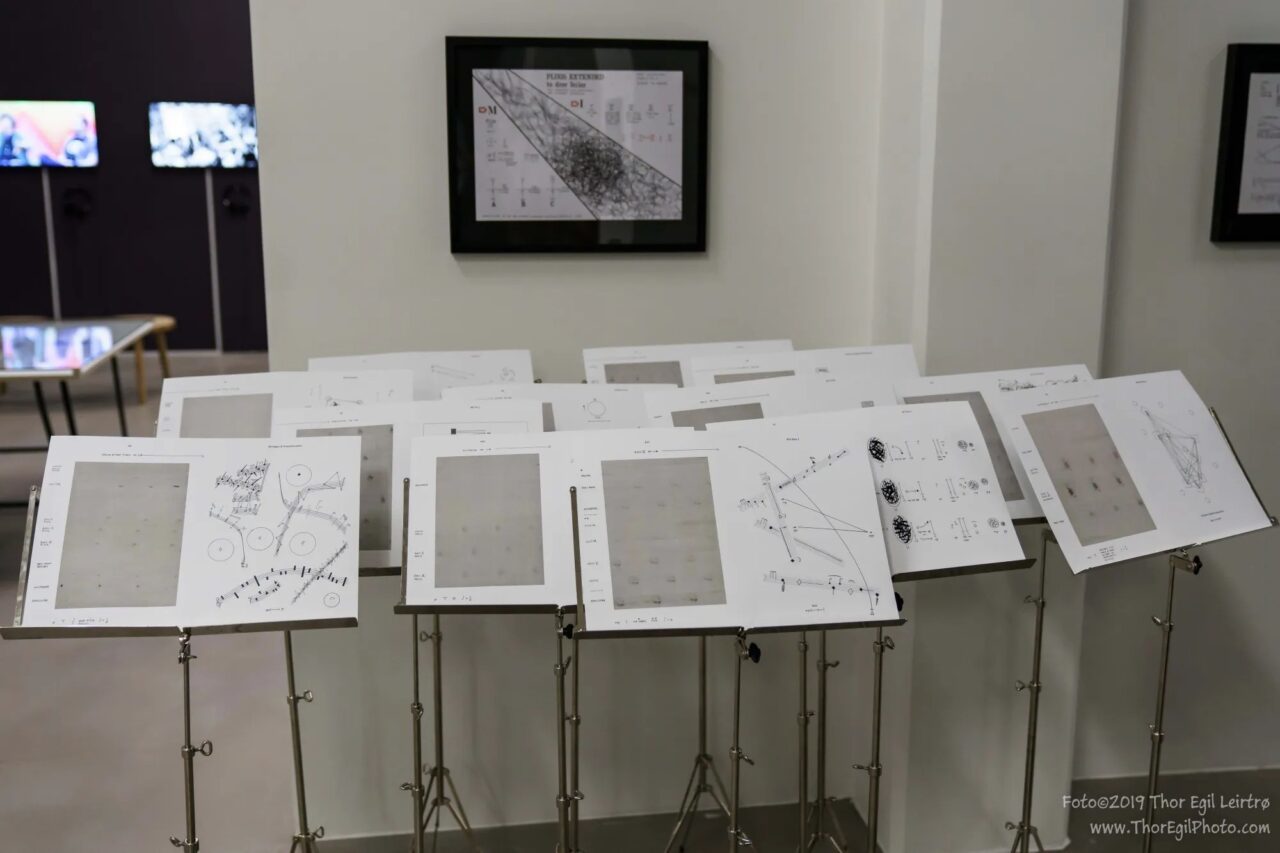 The commissioned new piece "Hidros 9" (2022) is a deeper exploration and continuation of the previous piece Hidros o.T. (2019), commissioned by NyMusikk Trondheim and will deal with mirrored forms and structures, connected to the visual works of Mathias Pöschl (AUT).
By controlling 3 different instrument groups (9- piece chamber ensemble, Soloist group and Electronics), the conductor will be able to use 3 different kind of graphics and models of conductions applied to the specific content of the graphics.
The 1st instrument group will consist of a double mirrored 9-piece ensemble with the double setting: violin, cello, 2 basses, guitar, percussion, bass drum, organ & prepared piano and accordion. This group is working with a variety of related graphics (1-13) controlled by the conductor. One 9-piece ensemble from Norway (NyMusikk Trondheim) and one with similar instrumental setting from Poland (Avant Art Ensemble).
The solo group will work with entirely different sound sources and graphics and is the balance in between (the mirror) the two 9-piece ensembles. Amplified bass sax, trumpet, electric guitar(s) and tuba. The Soloists will work in various settings as well as with solo work that is using the two mirrored ensembles as a musical engine. The Soloists will work with entirely different graphics (1 – 6) where they can interprete freely according to the rules of the composer.
The Soloists will work in a direct interaction between the image/ the score and the two mirrored ensembles. Controlled and ruled by the conductor.
A third instrumental group is the electronics: turntables and reel-to -reel tape machines. They will work with an entirely different graphic score and using sound sources from the previous piece of Gustafsson/ Pöschl: "Hidros o.T. (2019) and processing those sound recordings live in interaction with the conductor and the mirrored ensemble as well as with the Soloists.
Rules and game pieces will be set by the composer and executed live by the conductor in an INSTANT CONDUCTING situation, where tempo, dynamics, density and other musical parameters will be controlled by pre- determined rules of conductions.
What will give the piece a special body, character and profile is the meeting between traditional instruments and traditions (western string instruments: 4 double basses, 2 cellos, 2 violins) and new technology (contact miced amplified bass saxophone, turntables, electronics and tape machine) – all in an instant conducting situation and interplay with the interactions of the Soloists.
All graphics will be visible on stage – for the musicians as well as for the audience to see and digest.
A free associative interplay between audience and artists.
Many layers of interaction and new musical perspectives, forms and frictions will be used in Hidros 9. All linked to the graphic scores and works of Austrian artist Mathias Pöschl and the game pieces and conductive composing of Mats Gustafsson.